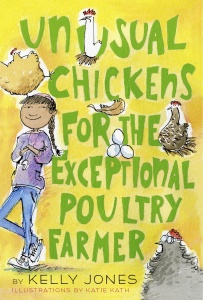 UNUSUAL CHICKENS FOR THE EXCEPTIONAL POULTRY FARMER (UNUSUAL CHICKENS #1)
by Kelly Jones, illustrated by Katie Kath
May 12, 2015, Knopf Books for Young Readers
Order a signed copy!
hardcover copy
paperback copy
(Just add a note requesting it be signed by author Kelly Jones when you place your order.)
Twelve-year-old Sophie Brown feels like a fish out of water when she and her parents move from Los Angeles to the farm they've inherited from a great-uncle. But farm life gets more interesting when a cranky chicken appears and Sophie discovers the hen can move objects with the power of her little chicken brain: jam jars, the latch to her henhouse, the entire henhouse….And then more of her great-uncle's unusual chickens come home to roost. Determined, resourceful Sophie learns to care for her flock, earning money for chicken feed, collecting eggs. But when a respected local farmer tries to steal them, Sophie must find a way to keep them (and their superpowers) safe.Told in letters to Sophie's abuela, quizzes, a chicken-care correspondence course, to-do lists, and more, Unusual Chickens is a quirky, clucky classic in the making.
REVIEWS:
"…A delightful protagonist, interesting fowl of various breeds and a cast of appealing second-string characters make this a top pick for young readers, poultry fanciers or not." (starred review)
School Library Journal, February, 2015 (scroll down to Middle Grade)
"…Told in letters, quizzes, newspaper clippings, and delicious ink drawings reminiscent of Quentin Blake, this middle grade epistolary novel has a little magic and a lot of warm family humor. Jones delivers a dynamic Latina protagonist…Readers will cheer for Sophie and clamor for more of those amazing chickens. Exceptional, indeed." (starred review)
Publishers Weekly, March 23, 2015
"Jones debuts with a comically poignant story composed of the letters that 12-year-old Sophie Brown writes…"
"…Full-page illustrations work with the epistolary format to tell a story that is as much about the process of grieving as it is about supernatural chickens. The combination of real-life emotion and otherworldly farming makes for a comedic story with the right amount of pathos."
"…Sophie's unique way of figuring life out on her own makes her easy to root for and provides entertainment beyond the inherent humor of chickens."
Shelf Awareness, June 30, 2015
"Debut novelist Kelly A. Jones introduces brave, highly intelligent and resourceful Sophie Brown, a 12-year-old poultry farmer in the making…" (starred review)
See more reviews and awards for Unusual Chickens for the Exceptional Poultry Farmer here!
Save
Save
Save
Save
Save
Save
Save
Save
Save
Save
Save
Save
Save
Save
Save
Save
Save
Save