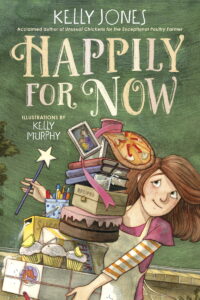 written by Kelly Jones, illustrated by Kelly Murphy
May 4, 2021 Knopf Books for Young Readers
Order a signed copy now from my local independent bookstore!
(Just add a note in the instructions box saying "Signed copy for [recipient's name]" when you place your order.)
Description:
Fiona may have problems, but she's no damsel in distress. She'd rather be the one wielding the wand in the story: she wants to be the fairy godperson. So when her mom sends her off to stay with relatives in a place called Cold Hope for the summer, Fiona decides it's time to start training for the role.

And wow, do these people need help! Aunt Becky's bakery is failing, Great-uncle Timothy draws but never speaks, and Great-Aunt Alta is the gloomiest, doomiest woman she's ever met.

Look out, Cold Hope, Fiona is going to shake things up!

But helping people in the real world isn't as easy as it sounds in fairy tales. Change is messy. Advice can backfire. What if she's actually making things worse? What if Fiona is the one feeling shaken?!

Still, with practice (and some deep breaths), Fiona will discover that sometimes messy is okay. Sometimes things do get worse before they get better. And sometimes trying to help fix other people's problems can show you a way to work on your own…
Reviews:
Publishers Weekly, July 23, 2021
Jones delivers a witty play on traditional fairy tales with a healthy dose of emotional maturity. This on-point fairy tale handles its subject matter sensitively as Fiona learns that helping people isn't as easy as it seems." (starred review)
The Horn Book, July/August 2021 issue
"Jones believably depicts Fiona as the child of an addict, with a blend of knowledge and naiveté that keeps her from seeming precocious or sentimental. The book's lower-stakes conflicts–a baking competition, Great-uncle Tim's hidden art–are treated with as much gravity as the bigger issues, making for an emotionally satisfying read."
Bulletin of the Center for Children's Books, Volume 74, Number 9, May 2021
"Jones's portrayal of a girl shouldering far too much responsibility is sympathetic, and it's refreshing to find a young heroine whose trusted social services network steers her in exactly the right direction."
School Library Journal, May 14, 2021
"Recommend to children who feel the need to fix things they cannot control…"
"…the boppy and lighthearted tone keeps it from veering into overly sentimental. Gentle and expressive black-and-white illustrations add emotion and texture to the novel."
Want to hear more as this story unfolds?