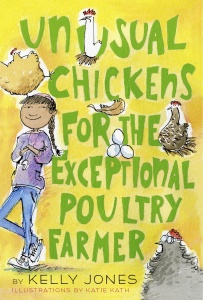 UNUSUAL CHICKENS FOR THE EXCEPTIONAL POULTRY FARMER (UNUSUAL CHICKENS #1)
by Kelly Jones, illustrated by Katie Kath
May 12, 2015, Knopf Books for Young Readers
Order a signed copy!
hardcover copy
paperback copy
(Just add a note requesting it be signed by author Kelly Jones when you place your order.)
Prefer listening? There's an audiobook too, narrated by Kyla García!
Twelve-year-old Sophie Brown feels like a fish out of water when she and her parents move from Los Angeles to the farm they've inherited from a great-uncle. But farm life gets more interesting when a cranky chicken appears and Sophie discovers the hen can move objects with the power of her little chicken brain: jam jars, the latch to her henhouse, the entire henhouse….And then more of her great-uncle's unusual chickens come home to roost. Determined, resourceful Sophie learns to care for her flock, earning money for chicken feed, collecting eggs. But when a respected local farmer tries to steal them, Sophie must find a way to keep them (and their superpowers) safe.Told in letters to Sophie's abuela, quizzes, a chicken-care correspondence course, to-do lists, and more, Unusual Chickens is a quirky, clucky classic in the making.
School Library Journal 30-Second Booktalk Video
HONORS:
ALA ALSC Children's Notable Book – 2016
2016 MSRI/CBC Mathical Honor Book
2016 Washington State Book Award Finalist
2016 Judy Lopez Memorial Award for Children's Literature Honor Book
2020 Idaho Kids Vote Book Award Nominee
2018 Garden State Children's Book Award Nominee
2017-2018 Maryland Black-Eyed Susan Award Nominee
2018 Arizona Grand Canyon Reader Award Nominee
2018 Oregon Reader's Choice Award Nominee
2018 Pacific Northwest Young Reader's Choice Award Nominee
2017-2018 Arkansas Charlie May Simon Children's Book Award Reading List
2018 Oklahoma Children's Sequoyah Book Award Masterlist
2017 Read Across Lawrence, KS Children's Selection
2016 Missouri State Teachers Association Reading List (Intermediate)
2017-2018 Indiana Young Hoosier Book Award Nominee
2017-2018 Tennessee Volunteer State Book Award Nominee (Intermediate Division)
2017 North Dakota Flicker Tale Award Nominee
2016-2017 New Mexico Land of Enchantment Book Award Nominee (Coyote Reading List)
2016-2017 Massachusetts Children's Book Award (MCBA) Nominee
2016-2017 Texas Bluebonnet Award Master List
2016-2017 Georgia Children's Book Award Finalist
2016-2017 Vermont Dorothy Canfield Fisher Children's Book Award Master List
2016-2017 Maine Student Book Award Title List
2016-2017 North Carolina Children's Book Award Junior Book nominee
2016-2017 Mukilteo Children's Choice Chapter Book Award Nominee
2016-2017 Horned Toad Tales Nominee
2016 Children's Choice Debut Author Finalist, Children's Choice Book Awards
Indie Choice Award Nominee for the E. B. White Read-Aloud Award
Outstanding Merit, Best Children's Books of the Year, 2016 Edition, Bank Street College Center for Children's Literature
REVIEWS:
"…A delightful protagonist, interesting fowl of various breeds and a cast of appealing second-string characters make this a top pick for young readers, poultry fanciers or not." (starred review)
School Library Journal, February, 2015 (scroll down to Middle Grade)
"…Told in letters, quizzes, newspaper clippings, and delicious ink drawings reminiscent of Quentin Blake, this middle grade epistolary novel has a little magic and a lot of warm family humor. Jones delivers a dynamic Latina protagonist…Readers will cheer for Sophie and clamor for more of those amazing chickens. Exceptional, indeed." (starred review)
Publishers Weekly, March 23, 2015
"Jones debuts with a comically poignant story composed of the letters that 12-year-old Sophie Brown writes…"
"…Full-page illustrations work with the epistolary format to tell a story that is as much about the process of grieving as it is about supernatural chickens. The combination of real-life emotion and otherworldly farming makes for a comedic story with the right amount of pathos."
"…Sophie's unique way of figuring life out on her own makes her easy to root for and provides entertainment beyond the inherent humor of chickens."
Shelf Awareness, June 30, 2015
"Debut novelist Kelly A. Jones introduces brave, highly intelligent and resourceful Sophie Brown, a 12-year-old poultry farmer in the making…" (starred review)
Unshelved Book Club review (in comic form!)
The Booklist Reader, April 3, 2015
Review of the Day, A Fuse #8 Production, June 1, 2015
CCBC Book of the Week, June 23, 2015
Libros Latin@s from Latin@s in Kid Lit, April 16, 2015 (with teaching tips!)
educating alice by Monica Edinger, May 4, 2015
Reading Through Life, April 19, 2015
Reads for Keeps, June 16, 2015
PRESS:
Best Books 2015, School Library Journal
Best Middle-Grade Books of 2015, Kirkus
Top 2015 Mighty Girl Books for Tweens & Teens, A Mighty Girl
100 Magnificent Children's Books 2015, A Fuse 8 Production (School Library Journal)
We Need Diverse Books End of Year Middle Grade Recommendations
Best children's books of 2015, The Kansas City Star
Favorite Titles of 2015, Latin@s in Kid Lit
Holiday Book Gift Guide, San Francisco Chronicle
2015's Best Books for Children, The News & Observer
Oakland Public Library Holiday Gift Guide — Children's Books
Q&A: We Need Diverse Books talks about Scholastic Reading Club collaboration
"50 Best Books for Summer," Instructor Magazine
"Sublime summer reads for readers, from toddlers to teens," Seattle Times, June 21, 2015.
"Hey, kids, warm up to summer reading with these 10 titles," Kansas City Star, May 3, 2015
The Center for Fiction: Junior Edition: New Books for Younger Readers #25
"Summer reads: the kid edition," Minnesota Public Radio, July 9, 2015
"What your kids (and you) should read this summer," ParentMap
"Strange birds and a brave young girl," The Daily Republic, June 15, 2015
"Book Recommendations from Books Inc.," San Francisco Chronicle, June 3, 2015
"Which books to get your kids this summer," San Francisco Chronicle, June 7, 2015
"Top 5 summer reads for children 8-12", Cambridge Chronicle, June 12, 2015
Amazon's Best Books of 2015: Ages 9-12
"23 Fun and Delightful Light Fantasy Novels," Book Riot, August 7, 2020
INTERVIEWS & GUEST POSTS:
"Indies Introduce Q&A with Kelly Jones," ABA, May 21, 2015
"4 Questions and 4 Sentence Starters with Kelly Jones", Watch. Connect. Read. June 18, 2015
"The Debut Club: An Interview with Kelly Jones," Sweet Sixteeners, May 9, 2015
"5 Amazing Middle Grade Novels Selected by Kelly Jones," The Children's Book Review, June 10, 2015
"Interview with Kelly Jones," On the Verge, May 4, 2015
"Hey Kid! with Kelly Jones," Heidi Schulz Books, May 14, 2015
"Q&A with Kelly Jones," Reads For Keeps, July 20, 2015
Save
Save
Save
Save
Save
Save
Save
Save
Save
Save
Save
Save
Save
Save
Save
Save
Save
Save