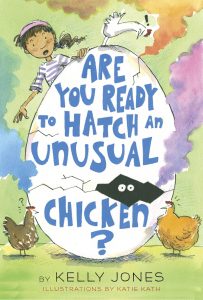 ARE YOU READY TO HATCH AN UNUSUAL CHICKEN? (UNUSUAL CHICKENS #2)
written by Kelly Jones, illustrated by Katie Kath
November 6, 2018
Knopf Books for Young Readers
Order a signed copy!
(Just add a note in the instructions box requesting it be signed by author Kelly Jones when you place your order.)
Twelve-year-old Sophie Brown is finally settling into her new home and her new role as keeper of some highly unusual chickens–chickens with secret superpowers! But the arrival of two new magical chickens for her flock and some unusual eggs to be incubated and hatched (what will their superpowers be?), plus an impending inspection from the Unusual Poultry Committee (who even knew this existed?) has Sophie feeling pretty stressed out. Her older cousin, Lupe, is coming to stay with her family, which is great–but will Lupe like chickens too? And on top of it all, Sophie's first day at her new school is rapidly approaching!
AWARDS:
2nd Place, 2019 International Latino Book Awards, Best Youth Latino Focused Chapter Book category
REVIEWS:
"Charming, thoughtful, and clever."
School Library Journal, October 1, 2018
"A funny and relatable realistic fantasy sure to be enjoyed by farm-dwellers, urbanites, and everyone in between."
The Reading Nook, March 12, 2018
"Are You Ready to Hatch an Unusual Chicken? immediately felt like a return to a world that was warm and welcoming…"
Roots & Reads, November 2, 2018
"I enjoy the chicken facts and the information included (brief but accurate descriptions on molting, incubating/hatching, etc.) and my daughter loves the funny powers the chickens have. Young readers can also learn a great deal from Sophie, who is enthusiastic, determined, and caring."
The Neverending TBR, November 6, 2018
"…The biggest lesson of all, though, is learning to ask for help. Sophie is a bright girl who loves her chickens. She's committed to doing whatever it takes to care for them. And that's good because her new chicks are a whole new level of 'unusual.'"
"Give this book to kids who want to be zookeepers when they grow up; it is all about caring appropriately for your animal charges! Or give it to kids who just want a magical pet. Or kids who just want to spend some time out in the country in good company eating apple-blackberry crisp and watching chickens do impossible things….."
San Francisco Book Review, February 2019
"One doesn't need to be a chicken lover to enjoy this romp."
PRESS:
Readers bring local author Kelly Jones' books to more children